The 18th JFCR-ISCC
December 4 (Wed)- 5 (Thu), 2013
Miraikan (National Museum of Emerging Science and Innovation)
2-3-6, Aomi, Koto-ku, Tokyo, Japan
The 18th JFCR-International Symposium on Cancer Chemotherapy (JFCR-ISCC) is scheduled as indicated above. I sincerely welcome your participation in this Symposium.
The JFCR-ISCC aims at information exchange on the latest findings of newly developing molecular-targeted anti-cancer drugs and the related topics. Molecular-targeted anti-cancer drugs have been developing prominently with global standards. Meanwhile, already launched molecular-targeted drugs have often been faced with rather quickly acquired resistance, and various challenges against the resistance are rapidly evolving. Accessing to these information is indispensable, moreover, informal exchanges of personal, very specific, or even unsuccessful experiences, are critically valuable for effective achievements of drug development. I believe the JFCR-ISCC with relatively small size will provide you an excellent opportunity for such communication through personal contacts.
In the upcoming 18th JFCR-ISCC, targeting ras signaling, immunotherapy and circulating tumor cells are the focused topics. I hope the Symposium would be an excellent occasion for you to access the domestic and international developments of new anticancer drugs and also to meet scientists, clinicians, and drug developers.
Looking forward to seeing you in Tokyo,
Mitsuaki Yoshida, Ph.D.
Chairman, JFCR-ISCC
Director, Cancer Chemotherapy Center, JFCR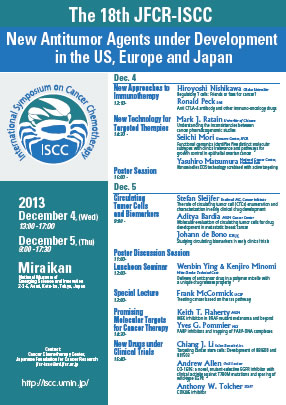 To attend the Luncheon Seminars, please receive Luncheon Seminar Ticket at "Luncheon Ticket Desk". The desk will open from 11:00 on December 4.
The 18th Symposium Program Committee
Naoya Fujita (Program Committee Chairman, Cancer Chemotherapy Ctr.)
Shiro Akinaga (Kyowa Hakko Kirin Co., Ltd.)
Makoto Asada (Eisai Co., Ltd)
Kiyohiko Hatake (Cancer Chemotherapy Ctr.)
Seiji Ito (Bristol-Myers K.K.)
Manabu Kawada (Inst. Microbial Chem.)
Kei Muro (Aichi Cancer Ctr. Hospital)
Atsushi Ohtsu (National Cancer Ctr.)
Isamu Okamoto (Kyushu Univ.)
Hiroyuki Seimiya (Cancer Chemotherapy Ctr.)
Kenji Suzuki (Taiho Pharmaceutical Co., Ltd.)
Kazuhito Yamamoto (Aichi Cancer Ctr. Hospital)
Seiji Yano (Kanazawa Univ.)
December 4
Poster mounting (11:00-13:00)
12:00
Committee Meeting
Opening remark
13:00-13:10
Mitsuaki Yoshida (Cancer Chemotherapy Center, JFCR, Tokyo)
Opening remark
I

New Approaches to Immunotherapy

Chairpersons: Johann de Bono (Institute of Cancer Research, Surrey, UK),
Ryuzo Ueda (Aichi Medical University, Nagakute)

13:10-13:30

Hiroyoshi Nishikawa (Osaka University, Suita)

Regulatory T cells: Friends or foes for cancer?

13:30-14:00

Ronald Peck (Bristol-Myers Squibb, Wallingford, USA)

Anti CTLA-4 antibody and other immuno-oncology drugs

14:00-14:10

Discussion

14:10-14:30

Coffee break
II

New Technology for Targeted Therapies

Chairpersons: Yves G. Pommier (National Cancer Institute, Bethesda, USA),
Isamu Okamoto (Kyushu University, Fukuoka)

14:30-15:00

Mark J. Ratain (University of Chicago, Chicago, USA)

?Understanding the inconsistencies between cancer pharmacogenomic studies

15:00-15:20

Seiichi Mori (Genome Center, JFCR, Tokyo)

Functional genomics identifies five distinct molecular subtypes with clinical relevance and pathways for growth control in epithelial ovarian cancer

15:20-15:40

Yasuhiro Matsumura (National Cancer Center, Hospital East, Kashiwa)

Nanomicelles DDS technology combined with active targeting

15:40-15:50

Discussion
Poster Session
16:00-17:00
Akiyo Hirose (Kyowa Hakko Kirin Co., Ltd., Tokyo)
The effect of Tivantinib (ARQ 197) on c-MET and its downstream signaling in NSCLC cells
Aki Aoyama (Cancer Chemotherapy Center, JFCR, Tokyo)
Antitumor activity of tivantinib (ARQ 197) is due to disruption of microtubule assembly in addition to c-MET inhibition
Hisato Kawakami (Kinki University, Osaka-sayama)
Human papillomavirus DNA and p16 expression in Japanese patients with oropharyngeal squamous cell carcinoma
Akiko Fujii (Kyushu University, Fukuoka)
Hypermethylation of CpG dinucleotide in epidermal growth factor receptor in non-small cell lung cancer; implications for acquiring T790M gate keeper mutation.
Masafumi Ikeda (National Cancer Center Hospital East, Kashiwa)
Phase I trial of GBS-01 for advanced pancreatic cancer refractory to gemcitabine
Kenichi Wakita (Daiichi-Sankyo Co. Ltd., Tokyo)
In vitro and in vivo profiling of novel mTORC1/2 inhibitor DS-3078a.
Makoto Nishio (Cancer Institute Hospital, JFCR, Tokyo)
Results from a Phase I/II study of alectinib (CH5424802/RO5424802) in ALK-rearranged advanced non–small-cell lung cancer
Manabu Kawada (Institute of Microbial Chemistry, Numazu)
Intervenolin, a new antitumor compound with anti-Helicobacter pylori activity, from Nocardia sp. ML96-86F2
Naoyuki Nishiya (Iwate Medical University, Shiwa)
A phenotype-based screening for chemical suppressors of the wnt/beta-catenin pathway in zebrafish
Taku Yoshida (Eisai Co., Ltd, Tsukuba)
Eribulin mesylate suppresses experimental metastasis in the MX-1 human breast cancer model by reversing phenotypic states between epithelial-mesenchymal transitions (EMT) to mesenchymal-epithelial transition (MET)
Hiroaki Ochiiwa (Taiho Pharmaceutical Co., Ltd, Tsukuba)
Biological characterization of TAS-120, a highly potent and selective irreversible FGFR inhibitor
Kiyoshi Okamoto (Eisai Co., Ltd, Tsukuba)
Antitumor activities of the targeted multi-tyrosine kinase inhibitor lenvatinib (E7080) against RET gene fusion-driven tumor models
17:00-18:30
Mixer
December 5
III

Circulating Tumor Cells and Biomarkers

Chairpersons: Shiro Akinaga (Kyowa Hakko Kirin Co., Ltd., Tokyo) ,
Kiyohiko Hatake (Cancer Institute Hospital, JFCR, Tokyo)

9:00-9:30

Stefan Sleijfer (Erasmus MC – Cancer Institute, Rotterdam, Netherlands)

The role of circulating tumor cell (CTCs) enumeration and characterization in early clinical drug development

9:30-10:00

Aditya Bardia (Massachusetts General Hospital Cancer Center, Harvard Medical School, Boston, USA)

Molecular evaluation of circulating tumor cells for drug development in metastatic breast cancer.

10:00-10:30

Johann de Bono ( Institute of Cancer Research, Surrey, UK)

Studying circulating biomarkers in early clinical trials

10:30-10:40

Discussion

10:40

Coffee break
Poster Discussion Session
Chairperson: Yoshikazu Sugimoto (Keio University, Tokyo)
11:00-11:20
Mentor: Mark J. Ratain (University of Chicago, Chicago, USA)
11:20-11:40
Mentor: Anthony W. Tolcher (South Texas Accelerated Research Therapeutics, San Antonio, USA)
11:40-12:00
Mentor: Keith T. Flaherty (Massachusetts General Hospital, Boston, USA)
Luncheon Seminar
Chairperson: Jain Krotz (Nitto Denko Technical Corporation, Oceanside, USA)
12:10-12:50
Kenjiro Minomi (Nitto Denko Corporation, Sapporo)
Introduction
Wenbin Ying (Nitto Denko Technical Corporation, Oceanside, USA)
Delivery of anticancer drug in a polymer micelle with a unique drug release property
Special Lecture
Chairperson: Tetsuichiro Muto (JFCR, Tokyo)
13:00-14:00
Frank McCormick (University of California, San Francisco, San Francisco, USA)
Targeting KRAS in human cancer
14:00-14:10
Discussion
14:10-14:30
Coffee break
Poster removal (14:30-17:00)
IV

Promising Molecular Targets for Cancer Therapy

Chairpersons: Aditya Bardia (Massachusetts General Hospital Cancer Center, Harvard Medical School, Boston, USA),
Shunji Takahashi (Cancer Institute Hospital, JFCR, Tokyo)

14:30-15:00

Keith T. Flaherty (Massachusetts General Hospital, Boston, USA)

MEK inhibition in BRAF mutant melanoma and beyond

15:00-15:30

Yves G. Pommier (National Cancer Institute, Bethesda, USA)

PARP inhibitors and trapping of PARP-DNA complexes

15:30-15:40

Discussion
V

New Drugs under Clinical Trials

Chairpersons: Stefan Sleijfer (Erasmus MC – Cancer Institute, Rotterdam, Netherlands),
Seiji Yano (Kanazawa University, Kanazawa)

15:40-16:10

Chiang J. Li (Boston Biomedical, Inc., Cambridge, USA)

Targeting cancer stem cells: Development of BBI608 and BBI503

16:10-16:40

Andrew Allen (Clovis Oncology, San Francisco, USA)

CO-1686: a novel, mutant-selective EGFR inhibitor with clinical activity against T790M mutations and sparing of wild-type EGFR

16:40-17:10

Anthony W. Tolcher (South Texas Accelerated Research Therapeutics, San Antonio, USA)

Cyclin-dependent kinase 4/6 inhibitors are active anticancer agents

17:10-17:20

Discussion
Closing remark
17:20
Yves G. Pommier (National Cancer Institute, Bethesda, USA)
Closing remark