The 24th JFCR-ISCC
December 11-12, 2019
Miraikan – The National Museum of Emerging Science and Innovation 7F
2-3-6, Aomi, Koto-ku, Tokyo, Japan
The 24th JFCR-ISCC is scheduled as indicated above.
The JFCR-ISCC aims at information exchange on the latest findings of newly developing anti-cancer drugs/therapies and the related topics, including molecularly targeted agents, immune checkpoint inhibitors, immunomodulators and their combinations. These anti-cancer drugs/therapies have been developing prominently with global standards. Meanwhile, already launched molecularly targeted drugs and immune checkpoint inhibitors have often been faced with intrinsic resistance, acquired resistance, and side effects. Accessing to the information is indispensable, moreover, informal exchanges of personal, very specific, or even unsuccessful experiences, are critically valuable for effective achievements of future drug/therapy development. I, as the Chairman of the JFCR-ISCC, believe this Symposium with relatively small size will provide you an excellent opportunity for such communications through personal contacts. 
The topics in the upcoming 24th JFCR-ISCC are Microbiome, TKI/Immunotherapy resistance, Genomic profiling tests, and the First-in-class drugs. I hope the Symposium would be an excellent occasion for you to access the domestic and international developments of novel anti-cancer drugs/therapies, and to meet researchers in academia, hospitals and industries. So, I sincerely welcome your participation in the Symposium.
Looking forward to seeing you in Tokyo!
Naoya Fujita, Ph.D.
Chairman, JFCR-ISCC
Center Director of the Cancer Chemotherapy Center, JFCR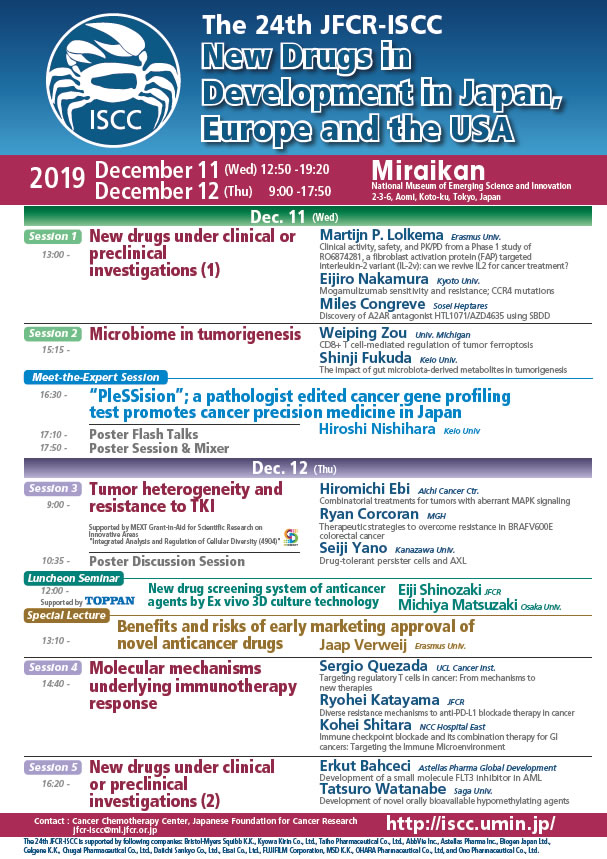 December 11
11:00-13:00
Poster mounting
12:00-12:30
Committee meeting (Conference Room Saturn)
Miraikan Hall
Opening Remark
12:50-13:00
Naoya Fujita (Cancer Chemotherapy Center, JFCR, Tokyo)
Miraikan Hall
I

New drugs under clinical or preclinical investigations (1)

Chairpersons: Sergio Quezada (University College London Cancer Institute, London, UK),
Hideaki Kakeya (Kyoto University, Kyoto)

13:00-13:40

Martijn P. Lolkema (Erasmus Medical Center Cancer Institute, Rotterdam, The Netherlands)

Clinical activity, safety, and PK/PD from a Phase 1 study of RO6874281, a fibroblast activation protein (FAP) targeted interleukin-2 variant (IL-2v): can we revive IL2 for cancer treatment?

13:40-14:05

Eijiro Nakamura (Kyoto University, Kyoto)

Targeting HIF-2: the novel and ideal approach for the treatment of renal cell carcinoma and VHL-related tumors

14:05-14:45

Miles Congreve (Sosei Heptares, Cambridge, UK)

Discovery of A2AR antagonist HTL1071/AZD4635 using SBDD

14:45-14:55

Discussion

14:55-15:15

Coffee break

Miraikan Hall
II

Microbiome in Tumorigenesis

Chairpersons: Ryan Corcoran (MGH Cancer Center, Boston, MA, USA),
Masanobu Oshima (Kanazawa University, Ishikawa)

15:15-15:55

Weiping Zou (University of Michigan, Ann Arbor, MI, USA)

Ferroptosis in cancer immunity and therapy

15:55-16:20

Shinji Fukuda (Keio University, Yamagata)

The impact of gut microbiota-derived metabolites in tumorigenesis

16:20-16:30

Discussion

Miraikan Hall
Meet-the-Expert Session
Chairperson: Shunji Takahashi (Cancer Institute Hospital, JFCR, Tokyo)
16:30-17:00
Hiroshi Nishihara (Keio University, Tokyo)
"PleSSision"; a pathologist edited cancer gene profiling test promotes cancer precision medicine in Japan
17:00-17:10
Discussion
Miraikan Hall
Poster Flash Talks
Chairperson: Ryohei Katayama (Cancer Chemotherapy Center, JFCR, Tokyo)
17:10-17:50
Conference Room Jupiter
Poster Session & Mixer
17:50-19:20
Nobuko Koshikawa (Chiba Cancer Center Research Institute, Chiba)
Retardation of tumor cell growth by PI polyamide-drug conjugates targeting mtDNA mutation
Takuya Hoshino (Taiho Pharmaceutical Co., Ltd., Ibaraki)
TAS1553, a novel protein-protein interaction inhibitor against RNR, demonstrates antitumor activity via the induction of dATP pool reduction and DNA replication stress
Shingo Noguchi (Daiichi Sankyo Co, Ltd., Tokyo)
Azacitidine (AZA) enhances antileukemic activity of the MDM2 inhibitor milademetan in TP53 wild-type acute myeloid leukemia (AML)
Keiji Funayama (MSD K.K., Tokyo)
Phase 2 study of olaparib in previously treated advanced solid tumors with homologous recombination repair mutation (HRRm) or homologous recombination repair deficiency (HRD): LYNK-002
Takashi Kojima (National Cancer Center Hospital East, Chiba)
Current status of oncolytic virus therapy; especially adenovirus-based therapy
Shinsuke Nakao (Astellas Pharma Inc., Ibaraki)
Antitumor effect of intratumoral IL-7 and IL-12 expression by a tumor-selective oncolytic vaccinia virus in poorly immunogenic murine cancer
Ai Takemoto (Cancer Chemotherapy Center, JFCR, Tokyo)
Development of a humanized anti-podoplanin antibody inhibiting tumor-dependent platelet activation
Ken Okada (FujiFilm Corporation, Kanagawa)
FF-10850, a novel liposomal topotecan, achieved superior anti-tumor effects and a favorable safety profile via preferential distribution followed by dual payload release mechanisms in tumor
December 12
Miraikan Hall
III

Tumor heterogeneity and resistance to TKI

Chairpersons: Jaap Verweij (Erasmus Medical Center, Rotterdam, The Netherlands),
Mikihiko Naito (National Institute of Health Sciences, Kanagawa)

9:00-9:25

Hiromichi Ebi (Aichi Cancer Center, Aichi)

Targeting cancers with aberrant MAPK signal

9:25-10:05

Ryan Corcoran (MGH Cancer Center, Boston, MA, USA)

Defining novel targeted therapy combination strategies for BRAF V600 mutant colorectal cancer

10:05-10:30

Seiji Yano (Kanazawa University, Ishikawa)

Drug-tolerant persister cells and AXL

10:30-10:40

Discussion

10:40-11:00

Coffee break

Miraikan Hall
Poster Discussion Session
Chairperson: Manabu Kawada (Institute of Microbial Chemistry, Tokyo)
11:00-12:00
Mentor 1: Jaap Verweij
Mentor 2: Ryan Corcoran
Conference Room Saturn & Uranus
Luncheon Seminar
Chairperson: Shiro Kitano (Toppan Printing Co., Ltd., Saitama / Osaka Univ., Osaka)
12:00-13:00
Eiji Shinozaki (Cancer Institute Hosipital, JFCR, Tokyo)
New drug screening system of anticancer agents by Ex vivo 3D culture technology
13:00-15:00
Poster removal
Miraikan Hall
Special Lecture
Chairperson: Mitsuaki Yoshida (Cancer Chemotherapy Center, JFCR, Tokyo)
13:10-14:10
Jaap Verweij (Erasmus Medical Center, Rotterdam, The Netherlands)
Benefits and risks of early marketing approval of novel anticancer drugs
14:10-14:20
Discussion
14:20-14:40
Coffee break
Miraikan Hall
IV

Molecular Mechanisms underlying Immunotherapy Response

Chairpersons: Weiping Zou (University of Michigan, Ann Arbor, MI, USA),
Hiroyoshi Nishikawa (National Cancer Center, Chiba / Nagoya University, Aichi)

14:40-15:20

Sergio Quezada (University College London Cancer Institute, London, UK)

Targeting Regulatory T cells for Therapeutic Gain: Means and Mechanisms

15:20-15:45

Ryohei Katayama (Cancer Chemotherapy Center, JFCR, Tokyo)

Diverse resistance mechanisms to anti-PD-L1 blockade therapy in cancer

15:45-16:10

Kohei Shitara (National Cancer Center Hospital East, Chiba)

Immune checkpoint blockade and its combination therapy for GI cancers: targeting the immune microenvironment

16:10-16:20

Discussion

Miraikan Hall
V

New drugs under clinical or preclinical investigations (2)

Chairpersons: Martijn P. Lolkema (Erasmus Medical Center Cancer Institute, Rotterdam, The Netherlands),
Hiroyuki Seimiya (Cancer Chemotherapy Center, JFCR, Tokyo)

16:20-17:00

Erkut Bahceci (Astellas Pharma Global Development, Northbrook, IL, USA)

Development of a small molecule FLT3 inhibitor in AML

17:00-17:25

Tatsuro Watanabe (Saga University, Saga)

Development of novel orally bioavailable hypomethylating agents

17:25-17:35

Discussion

Miraikan Hall
Closing Remark
17:35-17:50
Jaap Verweij (Erasmus Medical Center, Rotterdam, The Netherlands)
Closing remark