The 19th JFCR-ISCC
December 10 (Wed)- 11 (Thu), 2014
Miraikan (National Museum of Emerging Science and Innovation)
2-3-6, Aomi, Koto-ku, Tokyo, Japan
The 19th JFCR-International Symposium on Cancer Chemotherapy (JFCR-ISCC) is scheduled as indicated above. I sincerely welcome your participation in this Symposium.
The JFCR-ISCC aims at information exchange on the latest findings of newly developing molecular-targeted anti-cancer drugs and the related topics. Molecular-targeted anti-cancer drugs have been developing prominently with global standards. Meanwhile, already launched molecular-targeted drugs have often been faced with rather quickly acquired resistance, and various challenges against the resistance are rapidly evolving. Accessing to these information is indispensable, moreover, informal exchanges of personal, very specific, or even unsuccessful experiences, are critically valuable for effective achievements of drug development. I believe the JFCR-ISCC with relatively small size will provide you an excellent opportunity for such communication through personal contacts.
In the upcoming 19th JFCR-ISCC, immunotherapy, drug resistance and epigenetics are the focused topics. I hope the Symposium would be an excellent occasion for you to access the domestic and international developments of new anticancer drugs and also to meet scientists, clinicians, and drug developers.
Looking forward to seeing you in Tokyo,
Mitsuaki Yoshida, Ph.D.
Chairman, JFCR-ISCC
Director, Cancer Chemotherapy Center, JFCR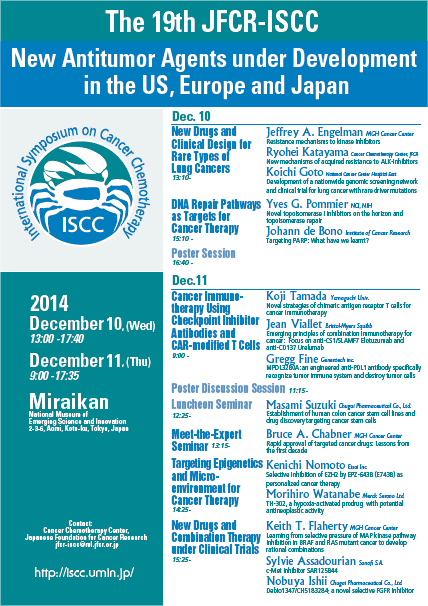 The 19th Symposium Program Committee
Naoya Fujita (Program Committee Chairman, Cancer Chemotherapy Ctr.)
Shiro Akinaga (Kyowa Hakko Kirin Co., Ltd.)
Yuko Aoki (Chugai Pharmaceutical Co. Ltd.)
Makoto Asada (Eisai Co., Ltd)
Kiyohiko Hatake (Cancer Chemotherapy Ctr.)
Seiji Ito (Bristol-Myers K.K.)
Manabu Kawada (Inst. Microbial Chem.)
Kei Muro (Aichi Cancer Ctr. Hospital)
Hiroyoshi Nishikawa (Osaka University)
Atsushi Ohtsu (National Cancer Ctr.)
Isamu Okamoto (Kyushu Univ.)
Hiroyuki Seimiya (Cancer Chemotherapy Ctr.)
Kenji Suzuki (Taiho Pharmaceutical Co., Ltd.)
Kenichi Wakita (Daiichi Sankyo Co. Ltd.)
Kazuhito Yamamoto (Aichi Cancer Ctr. Hospital)
Seiji Yano (Kanazawa Univ.)
December 10
11:00-13:00
Poster mounting
12:00-12:30
Committee meeting
Opening remark
13:00-13:10
Mitsuaki Yoshida (Cancer Chemotherapy Center, JFCR, Tokyo)
Opening remark
I

New Drugs and Clinical Design for Rare Types of Lung Cancers

Chairpersons: Keith T. Flaherty (Massachusetts General Hospital Cancer Center, Boston, USA)
Seiji Yano (Kanazawa Univ., Kanazawa)

13:10-13:50

Jeffrey A. Engelman (Massachusetts General Hospital Cancer Center, Boston, USA)

Resistance mechanisms to kinase inhibitors

13:50-14:15

Ryohei Katayama (Cancer Chemotherapy Center, JFCR, Tokyo)

New mechanisms of acquired resistance to ALK-inhibitors

14:15-14:40

Koichi Goto (National Cancer Center Hospital East, Kashiwa)

Development of a nationwide genomic screening network and clinical trial for lung cancer with rare driver mutations

14:40-14:50

Discussion

14:50-15:10

Coffee break
II

DNA Repair Pathways as Targets for Cancer Therapy

Chairpersons: Shunji Takahashi (Cancer Institute Hospital, JFCR, Tokyo)
Hiroyuki Seimiya (Cancer Chemotherapy Center, JFCR, Tokyo)

15:10-15:50

Yves G. Pommier (National Cancer Institute, NIH, Bethesda, USA)

Novel topoisomerase I inhibitors on the horizon and topoisomerase repair

15:50-16:30

Johann de Bono (Institute of Cancer Research, Surrey, UK)

Targeting PARP: What have we learnt?

16:30-16:40

Discussion
Poster Session
16:40-17:40
Hiroshi Kotani (Kanazawa University, Kanazawa)
Role of FGFR inhibitor in FGFR1 amplified non-small cell lung cancer
Yasuo Watanabe (Kyowa Hakko Kirin Co., Ltd., Sunto)
Biological characterization of a highly potent Wnt/β-catenin pathway inhibitor targeting tankyrase
Akito Nakamura (Takeda Pharmaceutical Co., Ltd., Fujisawa)
TAK-632, a selective pan-RAF inhibitor, inhibits the MAPK pathway with minimal RAF paradoxical activation
Satoshi Kawano (Eisai Co., Ltd., Tsukuba)
Selective inhibition of EZH2 by EPZ-6438 (E7438) leads to potent antitumor activity in EZH2 mutant NHL models
Satoshi Aida (Chugai Pharmaceutical Co., Ltd., Kamakura)
A large molecularly profiled panel of cancer cell lines for evaluating drug targets and investigating predictive biomarkers in the preclinical stage
Keiichi Ota (Kyushu University, Fukuoka)
Association of PD-L1 overexpression with activating EGFR mutations in surgically resected non–small cell lung cancer
Eiji Iwama (Kyushu University, Fukuoka)
Highly sensitive and quantitative detection of EGFR T790M mutations by Nanofluidic Digital PCR
Tetsuo Mashima (Cancer Chemotherapy Center, JFCR, Tokyo)
Functional genomic approach identified TRIB1 as an oncogenic survival factor in prostate cancer stem-like cells
Ayumi Hashimoto (Daiichi Sankyo Co., Ltd., Tokyo)
Pre-clinical combination therapy of anti-DR5 antibody CS-1008 with chemotherapies
Shuichi Sakamoto (Institute of Microbial Chemistry, Numazu)
Anti-tumor effect of a novel antibody against a human membrane protein CXADR
Yukinari Kato (Tohoku University Graduate School of Medicine, Sendai)
Development of a cancer-specific monoclonal antibody (CasMab) specific for cancer-type podoplanin
Shintaro Taki (National Institute of Biomedical Innovation, Kobe)
Optimization of bispecific antibody targeting CD3 and EphA10 as a bio-drug candidate against breast cancer
17:30-19:00
Mixer
December 11
III

Cancer Immunotherapy using Checkpoint Inhibitor Antibodies and CAR-modified T Cells

Chairpersons: Johann de Bono (Institute of Cancer Research, Surrey, UK)
Tomoki Naoe (NHO Nagoya Medical Center, Nagoya)

9:00-9:25

Koji Tamada (Yamaguchi University, Yamaguchi)

Novel strategies of chimeric antigen receptor T cells for cancer immunotherapy

9:25-10:05

Jean Viallet (Bristol-Myers Squibb, Princeton, USA)

Emerging principles of combination immunotherapy for cancer: Focus on anti-CS1/SLAMF7 Elotuzumab and anti-CD137 Urelumab

10:05-10:45

Marcus Ballinger (Genentech Inc., South San Francisco, USA)

MPDL3280A: an engineered anti-PDL1 antibody specifically recognize tumor immune system and destroy tumor cells

10:45-10:55

Discussion

10:55-11:15

Coffee break
Poster Discussion Session
Chairperson: Mikihiko Naito (National Institute of Health Science, Tokyo)
11:15-12:15
Mentor: Keith T. Flaherty (Massachusetts General Hospital Cancer Center, Boston, USA)
Poster #: P1-P4
Mentor: Yves G. Pommier (NCI, NIH, Bethesda, USA)
Poster #: P5-P8
Mentor: Johann de Bono (Institute of Cancer Research, Surrey, UK)
Poster #: P9-P12
Luncheon Seminar
12:25-13:05
Masami Suzuki (Chugai Pharmaceutical Co., Ltd., Tokyo)
Establishment of human colon cancer stem cell lines and drug discovery targeting cancer stem cells
13:00-15:00
Poster removal
Meet-the-Expert Seminar
Chairperson: Tetsuichiro Muto (JFCR, Tokyo)
13:15-14:05
Bruce A. Chabner (Massachusetts General Hospital Cancer Center, Boston, USA)
Rapid approval of targeted cancer drugs: Lessons from the first decade
14:05-14:25
Coffee break
IV

Targeting Epigenetics and Microenvironment for Cancer Therapy

Chairpersons: Yves G. Pommier (National Cancer Institute, NIH, Bethesda, USA)
Yoshikazu Sugimoto (Keio University, Tokyo)

14:25-14:50

Kenichi Nomoto (Eisai Inc., Andover, USA)

Selective inhibition of EZH2 by EPZ-6438 (E7438) as personalized cancer therapy

14:50-15:15

Morihiro Watanabe (Merck Serono Ltd., Tokyo)

TH-302, a hypoxia-activated prodrug with potential antineoplastic activity

15:15-15:25

Discussion
V

New Drugs and Combination Therapy under Clinical Trials

Chairpersons: Jean Viallet (Bristol-Myers Squibb, Princeton, USA)
Atsushi Ohtsu (National Cancer Center, Kashiwa)

15:25-16:05

Keith T. Flaherty (Massachusetts General Hospital Cancer Center, Boston, USA)

Learning from selective pressure of MAP kinase pathway inhibition in BRAF and RAS mutant cancer to develop rational combinations

16:05-16:45

Sylvie Assadourian (Sanofi-aventis research and development, Vitry-sur-Seine, France)

c-Met inhibitor SAR125844

16:45-17:10

Nobuya Ishii (Chugai Pharmaceutical Co., Ltd., Tokyo)

Debio1347/CH5183284: a novel selective FGFR inhibitor

17:10-17:20

Discussion
Closing remark
17:20-17:35
Bruce A. Chabner (Massachusetts General Hospital Cancer Center, Boston, USA)
Closing remark