The 23rd JFCR-ISCC
December 13-14, 2018
Miraikan (National Museum of Emerging Science and Innovation)
2-3-6, Aomi, Koto-ku, Tokyo, Japan
The 23rd JFCR-International Symposium on Cancer Chemotherapy (JFCR-ISCC) is scheduled as indicated above.
The JFCR-ISCC aims at information exchange on the latest findings of newly developing anti-cancer drugs/therapies and the related topics, including molecularly targeted agents, immune checkpoint inhibitors and their combinations. These anti-cancer drugs/therapies have been developing prominently with global standards. Meanwhile, already launched molecularly targeted drugs and immune checkpoint inhibitors have often been faced with intrinsic resistance, acquired resistance, and side effects. Accessing to the information is indispensable, moreover, informal exchanges of personal, very specific, or even unsuccessful experiences, are critically valuable for effective achievements of future drug/therapy development. I, as the Chairman of the JFCR-ISCC, believe the Symposium with relatively small size will provide you an excellent opportunity for such communications through personal contacts.
The topics in the upcoming 23rd JFCR-ISCC are Immunotherapy Resistance, Adoptive Cell Therapy, Epigenetic and DDR inhibitors and the First-in-class Drugs. I hope the Symposium would be an excellent occasion for you to access the domestic and international developments of novel anti-cancer drugs/therapies, and to meet researchers in academia, hospitals and industries. So, I sincerely welcome your participation in the Symposium.
Looking forward to seeing you in Tokyo.
Naoya Fujita, Ph.D.
Chairman, JFCR-ISCC
Center Director of the Cancer Chemotherapy Center, JFCR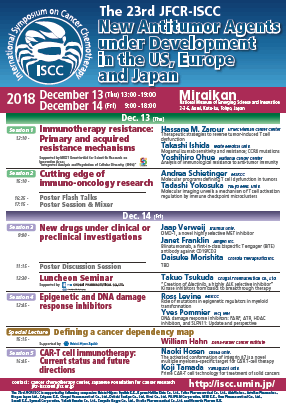 December 13
11:00-13:00
Poster mounting
12:00-12:30
Committee meeting
Opening Remark
13:00-13:10
Naoya Fujita (Cancer Chemotherapy Center, JFCR, Tokyo)
Opening remark
I

Immunotherapy resistance: Primary and acquired resistance mechanisms

Chairpersons: Andrea Schietinger (Memorial Sloan Kettering Cancer Center, New York, NY, USA),
Ryohei Katayama (Cancer Chemotherapy Center, JFCR, Tokyo)

13:10-13:50

Hassane M. Zarour (UPMC Hillman Cancer Center, Pittsburgh, PA, USA)

Therapeutic strategies to reverse tumor-induced T cell dysfunction

13:50-14:15

Takashi Ishida (Iwate Medical University, Iwate)

Mogamulizumab sensitivity and resistance: impact of CCR4 mutations

14:15-14:40

Yoshihiro Ohue (National Cancer Center, Chiba)

Analysis of immunological resistance to anti-tumor immunity

14:40-14:50

Discussion

14:50-15:10

Coffee break
II

Cutting edge of immuno-oncology research

Chairpersons: Ryuzo Ueda (Aichi Medical School of Medicine, Aichi),
Hiroyoshi Nishikawa (Research Institute, EPOC, National Cancer Center, Chiba / Nagoya University, Aichi)

15:10-15:50

Andrea Schietinger (Memorial Sloan Kettering Cancer Center, New York, NY, USA)

Molecular programs defining T cell dysfunction in tumors

15:50-16:15

Tadashi Yokosuka (Tokyo Medical University, Tokyo)

Molecular imaging unveils a mechanism of T cell activation regulation by immune checkpoint microclusters

16:15-16:25

Discussion
Poster Flash Talks
Chairperson: Shingo Dan (Cancer Chemotherapy Center, JFCR, Tokyo)
16:25-17:15
Poster Session & Mixer
17:15-19:00
Yuta Masaki (Ono Pharmaceutical Co., Ltd., Osaka)
Characterization of ONO-7475: A novel and selective Axl/Mertk inhibitor
Tomomi Iwata (Daiichi Sankyo Co., Ltd., Tokyo)
A HER2-targeting antibody-drug conjugate, [fam-] trastuzumab deruxtecan (DS-8201a), enhances antitumor immunity in a mouse model
Yu Kato (Cancer Chemotherapy Center, JFCR, Tokyo)
BCR-ABL tyrosine kinase inhibition induces metabolic vulnerability by preventing the integrated stress response in K562 cells
Tadaaki Ioroi (FujiFilm Corporation, Kanagawa)
FF-10832, a novel liposomal gemcitabine, improved pharmacokinetics and potentiated the anti-tumor activities
Michiko Yamato (Daiichi Sankyo Co., Ltd., Tokyo)
DS-7300a, a novel B7-H3-targeting ADC with a DNA topoisomerase I inhibitor, shows potent anti-tumor effects
Tokiyoshi Tanegashima (National Cancer Center, Chiba)
Immune suppression by PD-L2 against spontaneous and treatment-related antitumor immunity
Kana Kunieda (Kyowa Hakko Kirin Co., Ltd, Shizuoka)
Functional analysis of a novel indoleamine 2, 3-dioxygenase 1 (IDO1) inhibitor, KHK2455
Toshihiro Tanaka (Kansai Medical University, Osaka)
Bmi1-positive cells in the lingual epithelium could serve as cancer stem cells in tongue cancer
December 14
III

New drugs under clinical or preclinical investigations

Chairpersons: Yves G. Pommier (National Cancer Institute, NIH, Bethesda, MD, USA),
Atsushi Ohtsu (National Cancer Center Hospital East, Chiba)

9:00-9:40

Jaap Verweij (Erasmus Medical Center, Rotterdam, The Netherlands)

Early clinical and pharmacodynamic development of OMO-1, a novel highly selective MET-inhibitor.

9:40-10:20

Janet Franklin (Amgen Inc., Oaks, CA, USA)

Blinatumomab, a first-in-class bispecific T engager (BiTE) antibody against CD19/CD3

10:20-10:45

Daisuke Morishita (Chordia Therapeutics Inc., Kanagawa)

A novel therapeutic agent for relapsed and refractory lymphomas

10:45-10:55

Discussion

10:55-11:15

Coffee break
Poster Discussion Session
Chairperson: Manabu Kawada (Institute of Microbial Chemistry, Tokyo)
11:15-12:15
Mentor: 1: Yves G. Pommier
Mentor: 2: Jaap Verweij
Luncheon Seminar
Chairperson: Mitsuaki Yoshida (Cancer Chemotherapy Center, JFCR, Tokyo)
12:30-13:30
Takuo Tsukuda (Chugai Pharmaceutical Co., Ltd., Tokyo)
"Creation of Alectinib, a highly ALK selective inhibitor" Kinase inhibitors from basics to breakthrough therapy
13:00-15:00
Poster removal
IV

Epigenetic and DNA damage response inhibitors

Chairpersons: Jaap Verweij (Erasmus Medical Center, Rotterdam, The Netherlands),
Hiroyuki Seimiya (Cancer Chemotherapy Center, JFCR, Tokyo)

13:45-14:25

Ross Levine (Memorial Sloan Kettering Cancer Center, New York, NY, USA)

Role of mutations in epigenetic regulators in pathogenesis of AML

14:25-15:05

Yves Pommier (National Cancer Institute, NIH, Bethesda, MD, USA)

The DNA Damage Response (DDR) Inhibitors Targeting PARP, ATR and HDACs, and SLFN11 the Replication Stress Executor

15:05-15:15

Discussion
Special Lecture
Chairperson: Mitsuaki Yoshida (Cancer Chemotherapy Center, JFCR, Tokyo)
15:15-16:15
William Hahn (Dana-Farber Cancer Institute, Boston, MA, USA)
Defining a cancer dependencies map
16:15-16:25
Discussion
16:25-16:45
Coffee break
V

CAR-T cell immunotherapy Current status and future directions

Chairpersons: Ross Levine (Memorial Sloan Kettering Cancer Center, New York, NY, USA),
Shunji Takahashi (The Canccer Institute Hospital of JFCR, Tokyo)

16:45-17:10

Naoki Hosen (Osaka University Graduate School of Medicine, Osaka)

The activated conformation of integrin β7 is a novel multiple myeloma–specific target for CAR T-cell therapy

17:10-17:35

Koji Tamada (Yamaguchi University, Yamaguchi)

Prime CAR-T cell technology for treatment of solid cancers

17:35-17:45

Discussion

17:45-18:00

Jaap Verweij (Erasmus Medical Center, Rotterdam, The Netherlands)

Closing remark